Operation Deep Dive studied eight states and DOD data. According to the study conducted by America's Warrior Partnership in collaboration with the Department of Defense (DOD) and the University of Alabama, Veterans commit suicide 24 times a day, compared to 17 per day reported by the VA. Darrell Owens, Director of Government Relations at America's Warrior Partnership, believes he knows where this undercount is coming from. "I think right now with Operation Deep Dive with America's Warrior Partnership we found that the scope of the problem is significant, it is something the VA cannot grasp. They refuse to look at the depth of how big it is, including the overdose epidemic right now and how that is impacting veterans," said Owens.
According to him, the undercount is caused by overdoses among veterans, "In the VA suicide report that they have they don't include overdose as part of the problem"
Understanding the Complex Factors Contributing to Veteran Suicide
Regardless of statistics and studies, suicide among veterans remains a pressing issue. The reasons behind this tragic trend are complex and multifaceted. According to the Department of Veterans Affairs, the problem of suicide reflects a complex interaction of factors placing strain on individuals at the:
International Level Such as
National Level

Economic Disparities
Health Care Policies

Community Level

Employment Rates
Access To Care

Familial And Relational Level

Level Of Support
Relationship Problems

Individual Level
This underscores the need for a comprehensive approach to address veteran suicide, one that involves a range of stakeholders and strategies. While there is no single solution to this complex problem, increased awareness and understanding of the factors contributing to veteran suicide is a critical step towards prevention. By working together to support veterans and addressing the root causes of suicide, we can help prevent further tragedy and ensure that those who served our country receive the care and support they deserve.
The 2020 state data sheets present the latest findings from VA's ongoing analysis of suicide rates and include the most up-to-date state-level suicide information for Florida.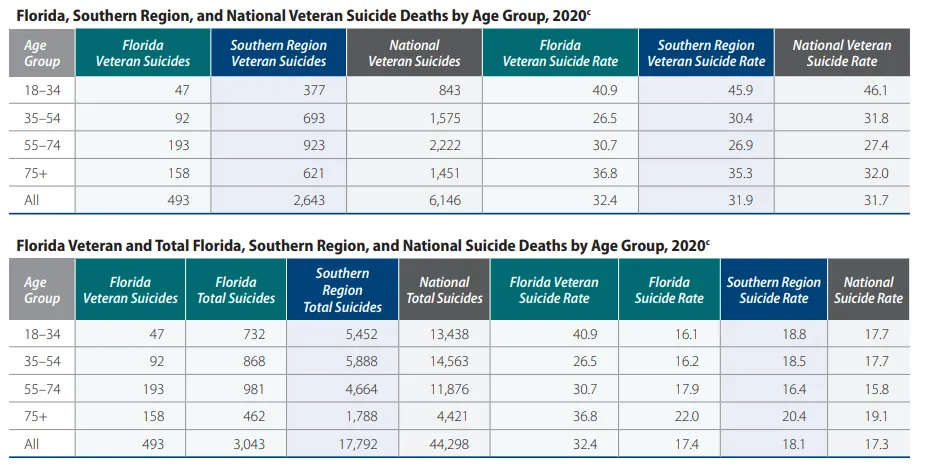 Resources:
Suicide has no single cause, and it will take multiple approaches to end it. Prevention is possible. Are you a Veteran in crisis or concerned about one?
You're not alone—the Veterans Crisis Line is here for you. You don't have to be enrolled in VA benefits or health care to call. Dial 988 then press 1 or text 838255.
Peer Support Outreach Call Center: Staffed by trained Veterans who proactively reach out to Veterans Crisis Line callers who might benefit from additional intervention. Studies show Veterans who have peer mentors are more likely to keep their VA appointments, access additional treatment methods, and meet other important health benchmarks.

Services and Support for Veterans at RCDS
At the Resource Center for Disability Solutions, we recognize the unique challenges that veterans may face when it comes to mental health and disability. Our mission is to provide support, resources, and services to help veterans overcome these challenges and live fulfilling, meaningful lives. Whether you need assistance with finding employment, accessing healthcare, or simply want to connect with others who understand what you're going through, we are here to help.
Call to Schedule an Appointment
The term "center for independent living" means a consumer‑controlled, community‑based, cross‑disability, nonresidential private nonprofit agency that is designed and operated within a local community by individuals with disabilities and provides an array of independent living services.
Serving Brevard & Indian River County, Florida.